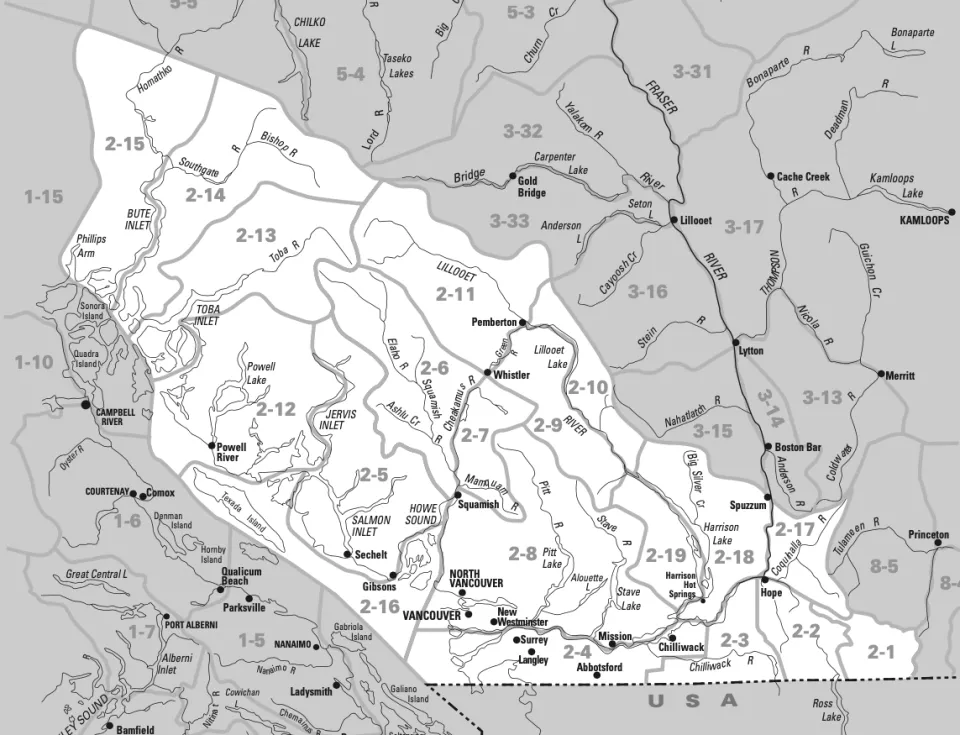 Last Updated: August 3, 2023
No Fishing: in any lake in the UBC Malcolm Knapp Research Forest near Maple Ridge.
Single barbless hook: must be used in all streams of Region 2, all year. See definition of "angle" and "streams" on page 80.
Dead fin fish as bait: only permitted in Region 2 when sport fishing for sturgeon in the Fraser River, Lower Pitt River (CPR Bridge upstream to Pitt Lake), Lower Harrison River (Fraser River upstream to Harrison Lake). See page 8 for details.
Steelhead fishing in the Lower Mainland Region: Your basic licence must be validated with a Conservation Surcharge Stamp if you fish for steelhead anywhere in B.C. See page 6 for details.
When you have caught and retained your daily quota of hatchery steelhead from any water, you must stop fishing that water for the remainder of that day.
Protected Species: it is illegal to fish for or catch and then keep protected species. In Region 2, these include:
Nooksack dace

Salish sucker

Green sturgeon

Cultus Lake sculpin
Notice to Anglers: The area known as the Rubble Creek Landslide Hazard Area is a high risk slide area. People who fish in this area do so at THEIR OWN RISK.
| Water | In-season correction/change | Effective date |
| --- | --- | --- |
| Chilliwack River from the orange triangular boundary signs approximately 200 meters above Vedder Crossing bridge down to the cable car crossing approximately 200 meters below the Vedder Crossing bridge. | No Fishing from August 4 to September 30, 2023 | August 4, 2023 |
|   |   |   |